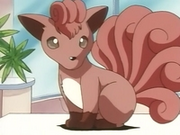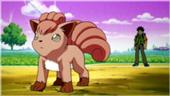 Vulpix
 is a fire-type Pokémon who appeared in 
May's Egg-Cellent Adventure!
.
Suzy's Vulpix was an incredibly particular Pokémon, only eating food that either its original trainer, Suzy, or Brock made. Through seeing the care that Brock went into in looking after Pokémon, she decided to let Brock look after it. Brock was often seen grooming it and sometimes used it in battle, mostly however in training with Ash. Vulpix, while a little bit spoiled, did enjoy playing about with the other Pokémon. Eventually Brock met up with Suzy again and decided that Suzy should keep Vulpix.
Ad blocker interference detected!
Wikia is a free-to-use site that makes money from advertising. We have a modified experience for viewers using ad blockers

Wikia is not accessible if you've made further modifications. Remove the custom ad blocker rule(s) and the page will load as expected.