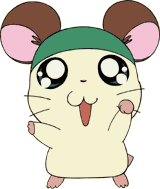 Cappy
 (かぶるくん, 
Kaburu-kun
) is a white and brown ham ham. He wears a green cap. He loves to put different things on his head. One notable thing would be a pan. He amires Boss.
Shy and hesitant, he is always looking for something new to put on his head. He's willing to try all sorts of things, but standard saucepans are his cap-of-choice. Owned by Kip and Sue. One of the younger Ham-Hams, Cappy loves hats. The two hats he most commonly wears are his green swimming cap, and the giant red saucepan that he usually hides under. While he loves his home, he does not like being spoiled, and looks up to Boss due to Boss's independence as a field hamster. He has developed some sort of a rivalry with Stucky, especially when it comes to hide and seek.
Ad blocker interference detected!
Wikia is a free-to-use site that makes money from advertising. We have a modified experience for viewers using ad blockers

Wikia is not accessible if you've made further modifications. Remove the custom ad blocker rule(s) and the page will load as expected.