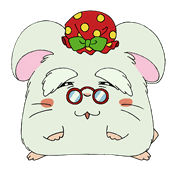 Auntie Viv
 (おハムばあさん, 
Ohamubaa-san
) is a extremely fit elderly hamster with an attitude. She used to be involved with 
Elder Ham
, or maybe she still is.
Auntie Viv will appear randomly in the show. Even though she's old, she loves doing things like snowboarding or skateboarding. She is sometimes "wild". But, she is kind and sometimes will give the ham-hams free advice.